$5
MILLION
PRODUCT
LIABLITY
$3.3
MILLION
MEDICAL
MALPRACTICE
$3
MILLION
BALCONY
COLLAPASED
$2.4
MILLION
MOTORCYCLE
ACCIDENT
$5
MILLION
PRODUCT
LIABLITY
$3.3
MILLION
MEDICAL
MALPRACTICE
$3
MILLION
BALCONY
COLLAPASED
$2.4
MILLION
MOTORCYCLE
ACCIDENT
WELCOME TO VIÑAS & DELUCA MIAMI INJURY LAWYERS

Personal Injury Lawyers & Car Accident Attorneys in Miami
Our Miami firm handles personal injury and wrongful death matters throughout Florida, with offices in Miami, Palm Beach, and Tampa. Contact us if you or someone you know has suffered an injury, death, or financial loss due to the negligent or wrongful conduct of others. Our firm handles personal injury claims related to medical malpractice, dangerous products, automobile defects, car and truck accidents, and all forms of personal injury matters resulting in significant injury or death.
As with all legal matters, it is best to contact an attorney as soon as possible to help assure your legal rights are protected. Under Florida law, actions for personal injury or wrongful death may only be brought within a certain timeframe. If you are considering filing a personal injury or wrongful death action, our lawyers in Miami, Palm Beach, and Tampa can help.
Experienced Injury Attorneys
CAR ACCIDENT, MEDICAL MALPRACTICE OR SLIP & FALL. LET US HELP.
At our firm, our team firmly believes that your first and only concern should be your recovery – recouping from a serious injury is no easy feat, only to be made more difficult by having to deal with the anxiety of pursuing legal action. Our priority is to handle the legal aspects of your case, so you can focus on what's most important: your recovery.
+ YEARS OF
COMBINED EXPERIENCE
With 40+ years of combined legal experience, lawyers at Viñas & DeLuca know what it takes to win. We have successfully recovered millions and millions of dollars for our clients over the years, litigating cases and going to trial against some of America's largest corporations. Our results speak for themselves and we are here to help. Let us help protect your rights and seek the compensation you deserve.
Gianina Acevedo
I highly recommend, Frank Viñas! He is sincere, efficient, keen, and gets the job DONE! He will keep you posted through the process and will find a solution in a timely matter. If I can give him 10 stars, I would. Grateful!

Daniel Rodriguez
Seriously the best lawyer in the U.S. Super aggressive and gets the money you deserve. Frank got me my money fast. Got emails at 2 a.m, he's literally fighting day and night for us. All our worries left the door, once we talked to him. Don't double guess your decision, he's the one!

Patricia Gilliland
The Law firm of Vinas and DeLuca was recommended to us by a very close friend and they DID NOT DISAPPOINT!! Frank Vinas did an amazing job for my family. He kept us informed throughout the process and did exactly what he said he would do. I would recommend Frank to anyone in need of excellent legal services.

Steven Del Mazo
Very professional, determined, no-nonsense attorneys who represent their clients with excellence and pride. Their attention to detail is second to none and they strongly believe in justice and fairness. You can't go wrong with this law office.

Claudia Pravia
I was very satisfied with the professionalism and guidance received during the entire process. I'll definitely recommend Francisco to anyone that may need his services.

Ricardo Pons
Both Frank and Robert are true professionals. I was impressed with how they managed our case. I will recommend them fully and our family is very happy with the outcome. Thank you, Frank and Robert.

Mario Quinones
I am so overwhelmed with joy, Frank won our case. He was so aggressive, even I was scared of him. The other attorney was shaking with fear of Frank. God put Frank in my life for a reason, if you are reading this, this is your sign!

Jorge Mendez
Frank and his staff are extremely professional. They informed me throughout the process and kept me updated. Frank was always available to speak to me and answered all my questions.

Gabriela Galvan
Frank really cares about his clients. He understands that his clients are in need to get their legal issues resolved so they can continue to heal without the stress of the courts. He is a lawyer that answers his calls, returns call and answers your questions which in Miami is hard to find.

jUST iNJURED?
+1(305) 372-3650
AVAILABLE 24/7/365
cases we handle in Florida

PERSONAL INJURY Lawyers & CAR ACCIDENT Attorneys Serving MIAMI
OUR PERSONAL INJURY attorneys
ARE AVAILABLE 24/7/365

WRITTEN BY OUR Injury Lawyers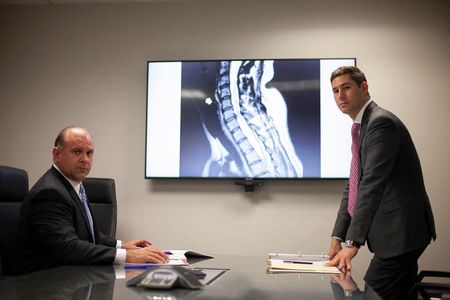 Documenting Your Injuries In A Personal Injury Case
When Should You Contact An Attorney Or Lawyer After An Accident?
OUR GOAL IS TO MAXIMIZE YOUR RECOVERY
AVAILABLE FOR CONSULTATIONS
at OUR FLORIDA law firm LOCATIONS
CONTACT our personal injury Law firm
The attorneys at Viñas & DeLuca Miami Injury Lawyers have the experience necessary to help you make the most of your case. Our principal office is located in Miami, Florida. All office visits are by appointment only.